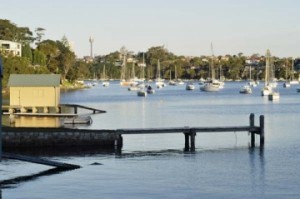 Suburb History
Northwood is a small peninsular suburb on Sydney harbour. It is between the better known Greenwich and Longueville, close to Lane Cove . It's named after Northwood House, the first estate to be built on the Lane Cove River Peninsula. This heritage-listed home was built in 1878 on 45 acres of land, for Mrs Jane Davy, by the colonial architect of Sydney, Edmund Blacket. After Mrs Davy's death in 1903, the home and estate (divided into 48 blocks) was sold to Mr Abdul Wade, a camel breeder from Western Australia. He later lost the house in a poker game. A number of prominent families have owned Northwood House since then. During the Second World War, it was used to provide accommodation for mentally handicapped children. Northwood House is open to the public. Lane Cove River is a very visible and beautiful landmark in the area.
Real Estate & Design
Residents are attracted to Northwood because of its intimate, village atmosphere, convenience of public transport, closeness to the business centres of Sydney and the North Shore's leafy environment. There is no through traffic so the suburb streets are quiet. It's full of historic, beautiful and interesting houses – dozens of which are in top-drawer waterfront locations, with boating facilities and views of the daily maritime activity.
Schools & Education
Lane Cove Primary, Lane Cove West Public, Mowbray Road, Hunters Hill Primary and Greenwich Primary are the closest state schools. Hunters Hill High, Chatswood High and North Sydney Girls and Boys are nearby. Private schools include St Ignatius College Riverview, Shore, St Josephs College, Villa Maria Primary School, Riverside Girls, and St Michaels Lane Cove.
Restaurants & Cafe's
The closest shops are at Lane Cove. North Sydney and Crows Nest also provide diverse shopping experiences with boutique shopping or clusters of shops for picking up a few items for dinner – fresh seafood, fruit and vegetables, meat and deli items. Whether its gourmet pizza, seafood or good coffee, you'll find it in nearby Lane Cove. The restaurants of Crows Nest and North Sydney are also a short drive away.
Sports Fitness & Recreation
Northwood is blessed with plenty of open space and bushland for recreation including river foreshores and waterfront reserves. Northwood Reserve is a quiet, waterfront reserve with children's play equipment and a ferry wharf. Nearby Greenwich offers small foreshore parks with views to the CBD. There are also many pleasant foreshore walks through natural bushland, grassy spots for picnics and boat ramps. Tambourine Bay Reserve and Gore Creek Reserve are wonderful spaces for walking and enjoying water views. The bushland surrounds of Berry Island Reserve are also nearby. The Reserve has a wonderful playground and walking tracks with views to the harbour. River Road Golf course and tennis courts are within walking distance. The Lane Cove Yacht Club is also close-by.
Transportation
Northwood is approximately 9.5 km from the CBD. There's a private ferry with links to North Sydney and Circular Quay about seven minutes walk away and the bus route is about five minutes walk away.